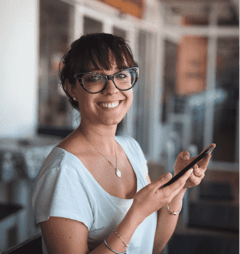 Unlock growth with our Flexible API
No.1 top-up API for all businesses. Trusted by over 10,000 partners worldwide.
How companies grow with us
We have a proud history
Ding was set up in 2006 to improve lives by helping those with less gain access to more. Today we have grown to be the largest mobile top-up provider in the world, enabling our partners to sell airtime, data, gift vouchers and bill payments to their customers around the world.
Why partner with us?
Scale your business: Leverage your existing customer base, expand your sales channels, and market your offering to a growing audience of 5 billion prepaid mobile customers, across 150+ countries and 850+ mobile operators.
Accelerate innovation:

Gain access to our know-how, flexible API and technical infrastructure. Our

team will provide customer insights and go-to-market resources designed to help you market your solution

more efficiently.

Trusted partner: We know the international top-up market inside-out because we created it - our customers have sent over 500 million top-ups. Plus, with guaranteed 99.95% uptime, our platform is the most secure and stable on the market. When it comes to your security, fraud, data analytics & marketing needs - we know what we're doing.
"Partnering with Ding has opened up a new opportunity to our customers as they can now stay connected to their loved ones around the world. This is a remarkable development from our end as well, as it allows us to continue offering new value to our users, differentiate from competitors and gain long-term loyalty." Mehedi Hasan, MyCash Online
"The easy API integration has allowed us to further engage with the evolving needs of our customers – providing them with easy and affordable access to digital entertainment. It's a great match for us." Phill Tevreden, TrackDrip
"Ding offers a reliable, instant international top-up service. The platform offers an extensive direct operator connection and real-time transactions. Their knowledge of the product and their customer insights really help us to drive revenues. The investment in marketing also helps us to drive product awareness and fundamentally build the business." Irv Roman, Barri
"A service like Ding's makes it much easier to acquire customers, the acquisition costs being much lower than other remittance products and the international coverage that Ding offers being relevant to most of the end customers." Raphaël Rivière, Monisnap
Build simple user journeys
One single API integration
Since 2006, we've accumulated a wealth of experience and industry knowledge which helps our partners hit the ground running selling international top-up via our API.
You can get started in a few easy steps - generate API credentials in minutes and tuck into our developer portal to avail of our many products over one single secure API integration.